NEWS 2.11.22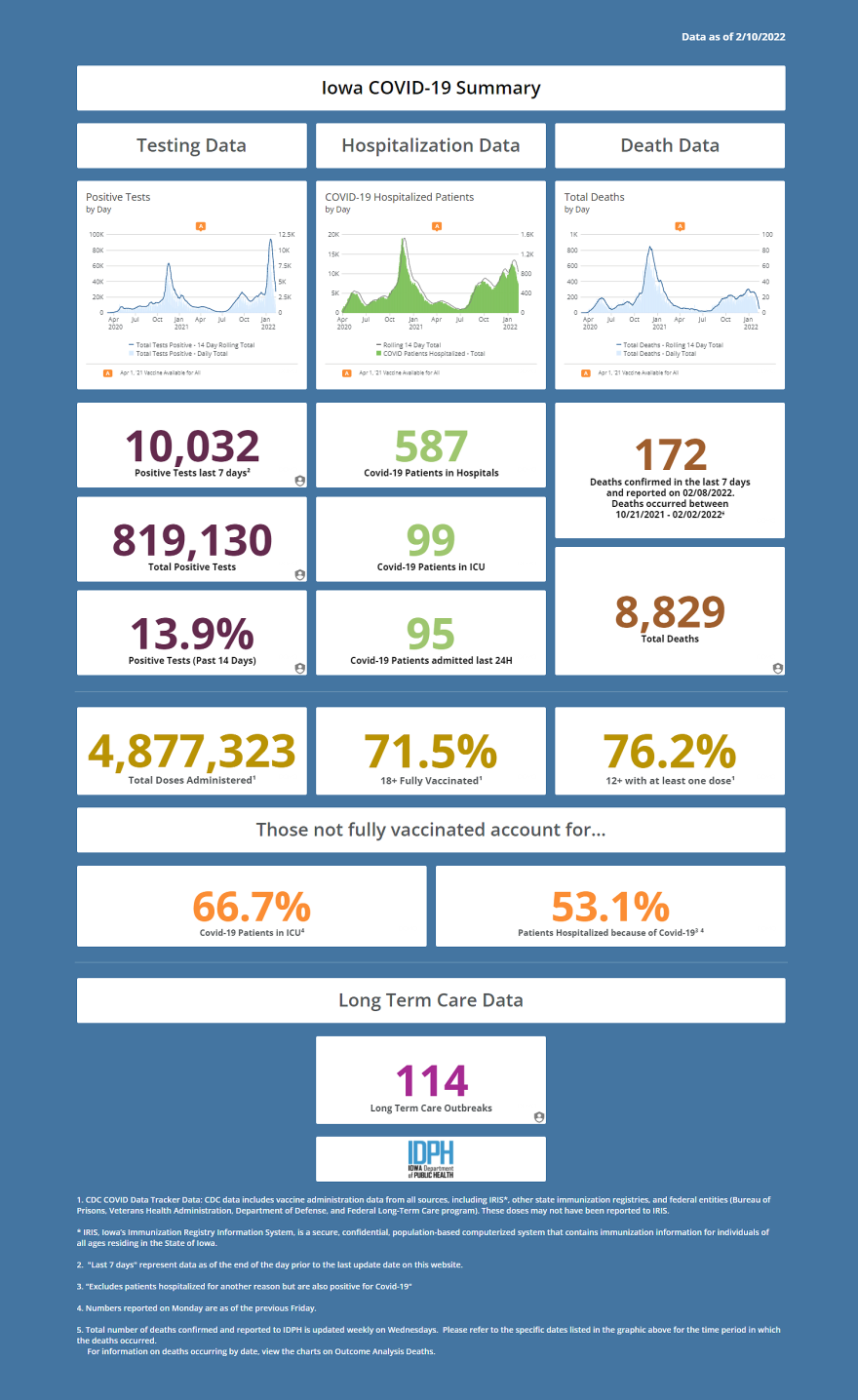 The Iowa Department of Public Health released data today showing continued improvement in COVID-19 case counts. The number of positive tests in the last seven days dropped from about 11,500 on Wednesday to just over 10,000 today. That's the lowest total reported this year. The number of long-term care facilities reporting an outbreak remains flat at 114.
The Sioux City Community School District's weekly COVID-19 trend report shows very little reported infections. A total of nine student and staff members reported a positive test result this week. The state coronavirus website shows a 13% test-positivity rate in Woodbury County with 327 tests in a week.
Iowa's top court official says masks will no longer be required in Iowa courtrooms as a statewide policy beginning next week. Iowa Supreme Court Chief Justice Susan Christensen says effective Monday, the courts will end the mandatory mask protocol. However, judges will be allowed to use discretion to require face coverings by participants if necessary. The step follows Gov. Kim Reynolds' announcement last week she would end the coronavirus public health emergency in Iowa, a move that will limit the release of state public health data.
The suspect at the center of a standoff with Sioux City Police near Heelan High School yesterday faces two gun-related charges.
The Sioux City Journal reports a judge set band for Emanual Pleitez at $75,000. The 36-year-old's preliminary hearing is scheduled for Feburary 21st. Sioux City Police Chief Rex Mueller says the Pleitez was handcuffed in the back of a squad car when he told an officer he had a handgun. The officer got out of the vehicle and the stand-off started. After about 90 minutes of negotiations authorities heard gun shots and detonated tear gas. Pleitez did go to the hospital before going to jail.
Previous story:
Sioux City police say a man is in custody after a standoff began when officers realized he had a gun inside a police car. The standoff occurred Thursday at Heelan High School. U.S. Rep. Randy Feenstra was touring the school at the time. Police Chief Rex Mueller says officers stopped a suspect in an armed robbery near the school and placed him in the police car. Officers found he had a micro-compact handgun. After about an hour of negotiations, police fired a chemical agent into the car and the man, 36-year-old Emanual Pleitez, surrendered. He was taken to a Sioux City hospital.
The Iowa Supreme Court says some misdemeanor trials can be held without the defendant present in cases where the person on trial is intentionally trying to delay justice. The court upheld the conviction of a Le Mars man who was charged with driving while intoxicated in 2017. Randall Hurlbut's trial was delayed three times and he didn't show up for his trial in February 2020, saying he couldn't get a ride. The judge proceeded without him and he was convicted. He appealed, saying his constitutional right to face his accuser was violated. The state Supreme Court concluded in such cases that defendants cannot try to delay justice by not showing up for trial.
An Iowa court judge has ordered the state to pay a labor union representing state workers nearly $2 million in a five-year legal dispute centered on whether the state could continue to deduct union dues from state worker paychecks after a state law change in 2017. Judge Paul Scott in a decision posted Monday said the state knew its failure to deduct union dues from worker paychecks would hurt the UE Local 893-Iowa United Professionals union financially. The legal dispute dates back to 2017, when the Iowa Legislature changed state collective bargaining laws but the courts have found the state still had to honor the 2017-2019 contract ratified days before the law changed.
Gov. Kristi Noem has signed a bill that makes Juneteenth an official state holiday in South Dakota. South Dakota was the last state to make June 19 a legal holiday with North Dakota approving legislation last April and Hawaii declaring the holiday with legislation in June. Juneteenth commemorates the end of slavery in the U.S., when three months after the Civil War ended and 2 1/2 years after the Emancipation Proclamation was signed, word of freedom was spread to enslaved Black people in Texas.
Nebraska football fans a step closer to being able to buy booze from vendors at Memorial Stadium. University of Nebraska regents have cleared the way for campus leaders to decide whether to sell alcohol at their sports venues. University president Ted Carter says he doesn't know when or if alcohol sales will begin inside Memorial Stadium. He says it will not begin this fall.
Strong winds whipped up blizzard-like conditions and closing sections of interstates and highways in North Dakota and Minnesota on Friday. The North Dakota Department of Transportation closed Interstate 29 from Canada to the South Dakota border because of near-zero visibility and icy conditions.
In Minnesota, the State Patrol advised no travel in northwestern Minnesota due to near whiteout conditions. Interstate 94 between Moorhead and Fergus Falls was closed along with sections of seven highways. The National Weather Service posted a blizzard warning Friday for eastern North Dakota and western Minnesota. There was a Wind Advisory that expired for parts of Siouxland at 3 p.m. There will be a Wind Chill Advisory for the Iowa Great Lakes overnight.