News and resources regarding COVID-19
PM News 10.2.20: Local C-19 School and Community Trends, Gov. Reynolds and Sen. Ernst Visit and More
532PM.mp3
SPM NEWS 10.2.20 - 532PM
The Sioux City Community School District reports a decrease of new COVID-19 cases involving students and staff.
Last week were 32 cases; this week - 26, with more staff than students being impacted. (10 students – 16 staff). New cases were identified in 14 buildings in the district.
One third grade class at Leeds Elementary was put in emergency response virtual learning. Last week, there were five classes.
The school district provides an update every Friday and says contract tracing was done in conjunction with Siouxland District Health.
More information can be found here.
Siouxland District Health also released weekly trends on Friday and says last week was the first in the past six weeks showing a slight decrease in the positivity rate of new cases.
More information can be found here.
However, the number of new cases continues to go up. Siouxland District Health says that is due in part to the amount of testing going on.
There is an increase in hospitalizations as well.
Officials say there are many event and gathering creating crowds were people are not distancing or limiting their interactions with others and not wearing masks. This includes weddings, ballgames, parties, funerals and other gatherings. They advise people to play it safe and take proper precautions to reduce the spread.
The Iowa Department of Public Health reports one more death in Woodbury County for a total of 69 deaths.
The current 14-day test positivity rate for Woodbury County is 14.8%.
Eighty-five of Iowa's 99 counties have a positivity rate exceeding 5%, the rate at which many public health experts recommend a mask mandate.
Gov. Kim Reynolds has rejected such a mandate.
Today she signed a new public health proclamation allowing bars to reopen in Story and Johnson counties starting Monday.
Wineries, breweries and distilleries will be allowed to reopen starting at 5 p.m. today (Friday).
Drinking establishments in the two counties, which are home to the state's two largest public universities, have been closed for over a month following a spike in coronavirus cases.
According to the new proclamation, bars must ensure six feet of distance between each group and every customer must have a seat.
Governor Reynolds made several stops in Siouxland today. This morning she checked out the Frank LeMere Hope Street House in Sioux City. The facility is a shelter for men who are homeless and battling substance abuse and was named after LeMere a Native American Activist.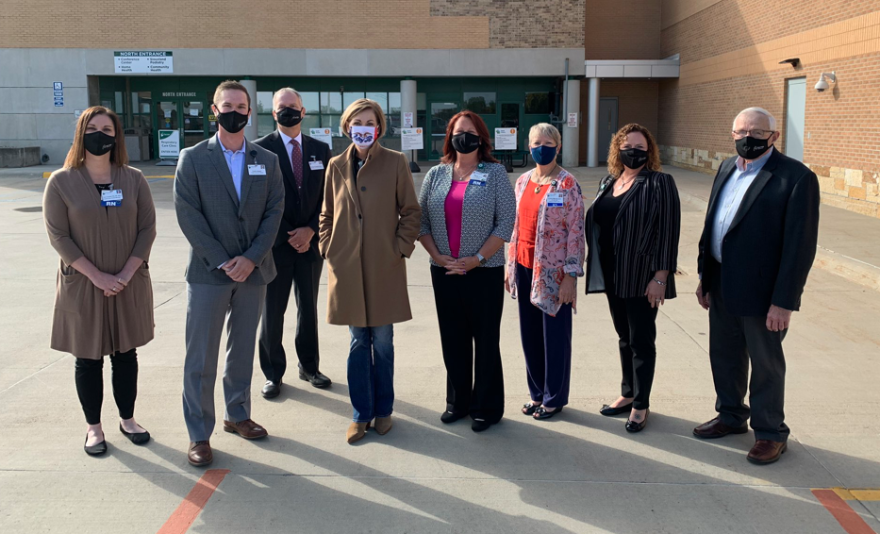 "It's an opportunity to highlight the good work that's being done and we should do that, from the private sector that has really stepped up to help provide and to meet a need in the community," said Reynolds.
Reynolds says she would like to make opportunities for women battling substance abuse as well.
Reynolds also says she is praying for a quick and healthy recovery for President Donald Trump who was recently diagnosed with the novel coronavirus.
Reynolds is scheduled to campaign tomorrow for President Donald Trump. She is taking part in a bus tour in western Iowa along with National Trump Advisor Eric Branstad and Iowa Senator Randy Feenstra, who is running for U.S. Representative in the 4th congressional district against J.D. Scholten.
Reynolds also made stops at a TestIA Clinic in LeMars and three other locations in the region.
Special thanks to KMEG Television for providing audio from Governor Reynold's stop in Sioux City so reporters at Siouxland Public Media could social distance.
U.S. Senator Joni Ernst in Sioux City as well. She toured the Siouxland Community Health Center and visited their COVID-19 testing site. She also dropped by the Sioux City Police Department and Rosecrance Jackson Centers.
An aide says U.S. Sen. Chuck Grassley isn't believed to have been exposed to anyone testing positive for the coronavirus and is continuing to take normal precautions. Grassley, an Iowa Republican, serves as Senate president pro tempore and is third in the line of succession, following Vice President Mike Pence and House Speaker Nancy Pelosi. Grassley's largely ceremonial role has taken on new significance since President Donald Trump announced that he and the first lady have tested positive for the coronavirus. Asked about whether Grassley was taking any new precautions, Grassley aide Michael Zona said Friday the senator was continuing to follow guidance from the Senate doctor, the Centers for Disease Control and Prevention and local health officials