Charges Filed in New Year's Murder; Investigators Looking for Witnesses in Death of Sioux City Teen
There's a new development in Sioux City's first murder investigation of 2021. Siouxland Public Media's Sheila Brummer with the latest and more details on the young lady police call an "innocent victim."
A Sioux City teenager is behind bars and charged in connection with a deadly shooting during a New Year's celebration.
Eighteen-year-old Mia Kritis of Sioux City was killed while attending a party near Walker and Morningside Avenue. That's near the Whispering Creek neighborhood. Three other teens were hurt.
"The suspects displayed a clear, just wonton disregard for the sanctity of human life with their actions."
That's Community Policing Sergeant Jeremy McClure.
Nineteen-year-old Christopher Morales was taken into custody near 19th and Douglas on Sunday afternoon, according to a news release from the Sioux City Police Department released on Tuesday. Morales tried to run away when officers approached him. They found a gun in Morales' possession connected to the shooting.
Detectives say Morales and other suspects forced a person back into the home before the shooting took place after midnight. They then fired off at least 27 rounds into the house with handguns and an assault style rifle.
"As tragic as it is. We are lucky more people didn't lose their lives."
There were an estimated 20 to 25 people attending the party and McClure says investigators are looking for more witnesses to the horrible crime to come forward.
"The big thing I wanted to stress is that everyone at that house at the time was a victim. They could have easily been hit by gunfire, like the other four victims. We're hearing rumors some witnesses are afraid to come forward because they were at an underage party. What we want to stress is that is not the case at all. Right now, we're not pursing charges for people being at the party. We want to find the people
responsible."
Morales is currently charged with intimidation with a dangerous weapon and going armed with intent. Additional charges are pending. His bond was set for $70,000.
Mia Kritis was a senior at North High School and worked at the Dakota Dunes Country Club. A post on social media by the country club said she was beloved and will be missed by all. They urge people to donate to a memorial fund for the family. Kritis had planned on attending nursing school after graduation.
"She had a very promising future and this was stolen from her."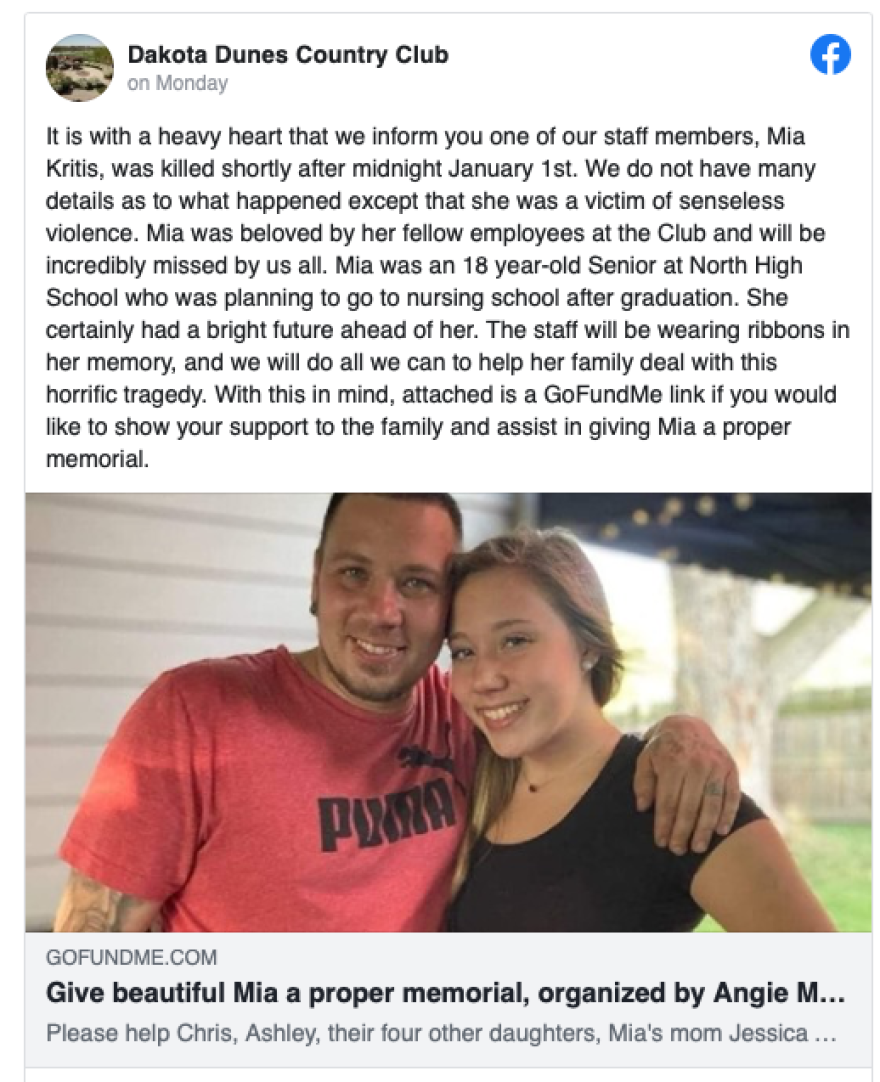 News release from the Sioux City Police Department:
Detectives with the Sioux City Police Department have charged 19-year-old Christopher I. Morales with Intimidation with a Dangerous Weapon and Going Armed with Intent in connection to the Jan. 1 shooting in the 2600 block of Walker St that left one woman dead and three other people injured.
Morales was arrested on Jan. 3 at 3:46 p.m. in the 1900 block of Douglas St. when he attempted to flee officers after they approached him. Once in custody, they found him to be in possession of a firearm. He was charged with Felon in Possession of Firearm, Unlawful Carry of Weapons, and Interference with Official Acts.
Based on that arrest and seizure of the firearm, detectives were able to connect Morales and the firearm to the shooting on Walker St where a subject was forced to walk into the residence by Morales and additional suspects before they fired into the house with 9 mm caliber handguns and an assault style rifle.
Additional charges are pending based on the results of forensic examinations of evidence collected at the scene.
Detectives are still searching for information on additional suspects that were involved in the shooting and are asking anyone with information to please contact the Sioux City Police Department.
Update on Jan. 3, 2021 3:15 p.m.
The Sioux City Police Department identified 18-year-old Mia Alexis-Marie Kritis of Sioux City as the victim of the homicide that occurred on Jan. 1 in the 2600 block of Walker St.
We wish to express our deepest sympathies to her family and friends for their loss.
The names of other victims injured in this incident are not being released at this time as they are juveniles but all are recovering from their injuries.
Detectives are continuing to follow up on several leads and ask that anyone that was at the residence at the time of the shooting to please contact the Sioux City Police Department.