NEWS 2.17.23
Iowa Department of Education Director Ann Lebo is resigning next month.
Lebo started in that position in March 2020, just as COVID-19 appeared in Iowa. In a statement, Lebo says she's "decided to explore new opportunities." She also says she's proud of Iowa leading the way in in-person classes during the pandemic.
and will take over implementing Iowa's new education savings accounts for families to use state funding to pay for private school tuition.
The Pierce St. Laundry at 1910 Pierce Street was red-tagged after an early morning fire Friday. The fire broke out overnight around 3 p.m. Photos from inside the building by photographer George Lindblade show the damage to the business.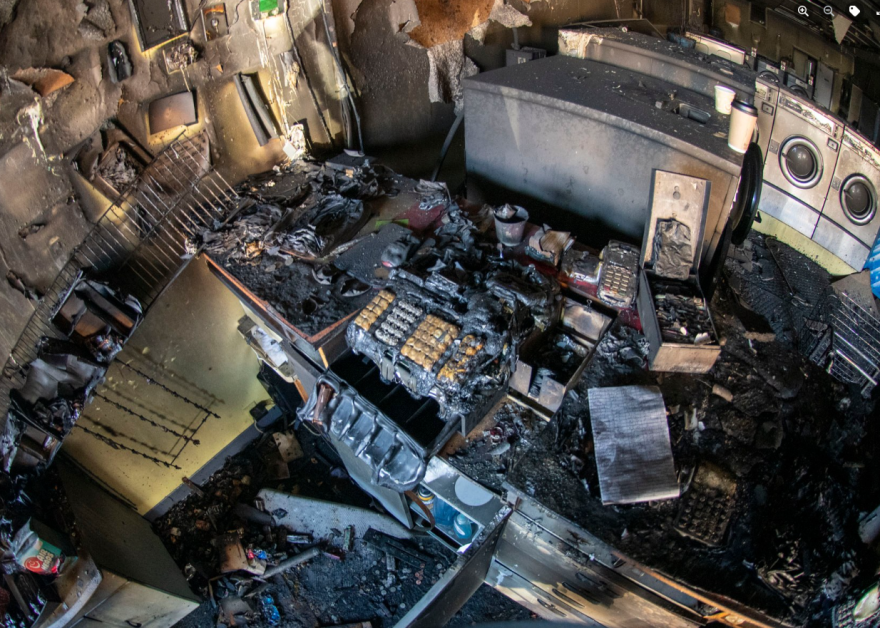 After months of contentious debate at the South Dakota Capitol, carbon capture companies now have one less barrier in the way of their pipelines. More on the story can be found here from the Argus Leader.
House Bills 1133 and 1230 both died in a South Dakota Senate Commerce and Energy Committee vote Thursday ― the two pieces of pipeline legislation to survive the House this legislative session.
A new plan released by about two dozen Iowa House Republicans Thursday could make it more difficult for private companies to use eminent domain in the construction of carbon sequestration pipelines.
Radio Iowa reports Representative Steve Holt, a Denison Republican, announced the plan that he believes could be a compromise. There have been ongoing disagreements about pipeline plans that ethanol producers claim will protect their industry in the years ahead and land owners who don't think that a private, for-profit company should be able to force access to their land.
The pipelines would carry carbon produced when plants make ethanol and then carry them underground through several states before connecting to an underground storage tank out of state.
A new report has found the state's nursing homes are facing significant financial challenges — and there's been an 11% decline in the workforce for Iowa's senior care services since the start of the pandemic.
The report is from LeadingAge Iowa, a group that represents non-profit assisted living centers, home health care services and nursing homes.
Nearly eight out of 10 Iowa nursing home managers say they've used temp agencies to fill staffing gaps.
If Medicaid rates aren't raised, the report from LeadingEdge Iowa concludes there will be "an unprecedented wave" of nursing home closures.
Last year, 17 nursing homes in Iowa closed, and since the beginning of this year, five more Iowa nursing homes have announced plans to close.
The Sioux City Farmers Market announced this year's opening date. It will take place on Wednesday, May 3rd, and open Wednesday and Saturday until October 28th from 8 a.m. until 1 p.m.
Submitted news releases:
Western Iowa Tech Hires Three Coaches and Athletic Director
February 17, 2023
For Immediate Release
Western Iowa Tech Community College (WITCC) has hired several key leadership positions for the College's new athletics department. WITCC announced last fall that it has been approved by the National Junior College Athletics Association (NJCAA) to start basketball, cheer, esports, soccer, and volleyball programs.
Mike Brown has been named Athletic Director of the department. Brown served as Student Activities Director at WITCC for 25 years. He has a bachelor's degree from Iowa State University and a master's degree from Drake University. Brown is passionate about sports and student success. He will mentor student-athletes and is looking forward to building the athletic department during its inaugural year.
Dante Frattini, a nine-year veteran of college volleyball, has been named Head Volleyball Coach. Frattini joins the program from Lewis-Clark State College (NAIA), where he served as the assistant coach for one season. As the head coach of Eastern Wyoming (NJCAA) for the 2019-2021 seasons, Frattini led the Lancers to a No. 12 national ranking and a runner-up finish in the Northwest Plains B District finals. Previously, at Lamar Community College (NJCAA), he led the Lopes to wins over nationally ranked opponents for the first time in program history and coached the team's first and only NJCAA National Player of the Week. He practices a holistic coaching philosophy that focuses on the development of the whole student-athlete. Frattini grew up in the San Francisco Bay Area and earned a bachelor's degree from Sacramento State.
Rachel Miller has been named the Head Cheer Coach has been actively involved in cheerleading in a variety of ways since 2008. She has been named to the Iowa Honor Squad as an All-American cheerleader and an Iowa Shrine Bowl cheerleader. She later coached an all-star team in Sioux City. As an alum of Western Iowa Tech, she is excited to offer a new opportunity for students to compete in cheerleading, stunting, and tumbling.
Alex Scheuler has been named Head Coach for the Men's and Women's Soccer teams. Scheuler has a bachelor's degree from Doane College in Lincoln, Nebraska. Prior to his hiring, he was the first coach in program history at Southeast CC in Nebraska from 2020-2023 at the college level, starting the men's program from scratch. In addition to his college coaching experience, he has served as Director of Coaching at Capital Soccer Association and was Staff Coach at Sporting Nebraska in Lincoln at the club level after getting his start in the high school coaching ranks. He holds a C national US soccer coaching license along with other youth coaching diplomas. He loves working with athletes to help them reach their goals both on and off the field.
Gov. Reynolds Announces Department of Education Leadership Transition
DES MOINES – Governor Reynolds announced today that Iowa Department of Education Director Ann Lebo is resigning.
"I want to thank Dr. Lebo for her many contributions to my administration and the Department of Education over the last three years," Gov. Reynolds stated. "From her very first day on the job, Ann was immersed in the pandemic's impact on education. She supported Iowa's schools in their transition to remote learning during the spring of 2020 and developed our Return to Learn plan for the fall. I will be forever grateful for her leadership and student-centered approach during that challenging time, and I wish her much success."
Lebo joined the Department of Education on March 13, 2020, at the early onset of COVID-19 in Iowa. Just days later, Iowa schools closed for the remainder of the school year, then led the nation in reopening in August.
"It has been a tremendous honor to work alongside the dedicated team at the Department of Education and serve Iowa schools, administrators, educators, and students," Ann Lebo said. "The last three years have been some of the most challenging of my career, but also incredibly rewarding. I'm proud that Iowa was on the leading edge of prioritizing in-person learning throughout the pandemic and I'm thankful for Governor Reynolds' leadership in that effort. Now, I've decided to explore new opportunities and I look forward to seeing where they lead."
Lebo's resignation is effective March 14, 2023.
Grassley Joins Thune, Cassidy in Introducing Bill to End Pandemic-Era Pause on Student Loan Repayments
WASHINGTON – Sen. Chuck Grassley (R-Iowa) joined Sens. John Thune (R-S.D.) and Bill Cassidy (R-La.) in introducing the Stop Reckless Student Loan Actions Act to end President Joe Biden's attempt to unilaterally cancel student loan debt. The bill would prohibit the president from canceling student debt, stop the student loan payment pause and prevent a unilateral moratorium in the future. The cancelation and repayment changes proposed by President Biden are estimated to cost close to a trillion dollars — all without any approval from Congress. Grassley previously introduced a trio of bills to bring transparency to the opaque world of college costs and ensure students have the information they need to shop around before taking out loans.
"President Biden has said himself that the pandemic is over. There is simply no basis for using emergency-era measures as an excuse to wipe away or delay repayment on billions of dollars in student loans," Grassley said. "Doing so is an unfair burden on those who chose not to attend college or worked hard to pay their own loans back. What's more, it's bad fiscal policy. Our bill would block the Biden Administration from transferring these loans from the borrower to the taxpayer."
"Taxpayers, especially working families, should not be responsible for bearing the costs associated with President Biden's federal student loan suspension," Thune said. "It's incredibly unfair to those who never incurred student debt because they didn't attend college in the first place or because they either worked their way through school or their family pinched pennies and planned for higher education. It's time for borrowers to resume repayment of their student loans, and I'm proud to lead this common-sense legislation that would protect taxpayers and prevent President Biden from suspending these loans in perpetuity."
"President Biden is unfairly transferring the burden from those who willingly took on loans to those who did not," Cassidy said. "There is no support for the man who didn't go to college but is paying off a work truck or the woman who responsibly paid off her student loans but is struggling with her mortgage. This legislation stops Biden from sticking them with the bill for hundreds of billions of dollars."
"It was always a clear abuse of power and deeply unfair for President Biden to ask Americans who don't have student debt to foot the bill for those who do," said Brent Gardner, chief government affairs officer for Americans for Prosperity. "For too long, the executive branch has accumulated unchecked emergency powers that only entrench our broken system in Washington. This bill helps restore the balance by empowering Congress to hold the president accountable for abusing emergency powers for political gain."
"The student loan pause will cost taxpayers upwards of $195 billion while feeding inflation and providing massive windfalls to doctors, lawyers, and other high-income professionals," said Maya MacGuineas, president of the Committee for a Responsible Federal Budget. "Whatever justification for the pause once existed in the depth of the pandemic has long since passed. The irresponsible stewardship of the student loan program, including multiple costly extensions of the pause, has made clear that a legislative solution is needed."
"This legislation is common-sense reform to emergency powers that puts a gut check on the executive branch's clear overreach of authority," said Alex Miliken, policy and government affairs manager for the National Taxpayers Union (NTU). "The cost of President Biden's reckless student debt policies has ballooned to the tune of more than $400 billion in hard earned tax dollars. NTU celebrates this prudent refinement of executive authority and urges its swift consideration."
The legislation is cosponsored by Sens. John Barrasso (R-Wyo.), Katie Britt (R-Ala.), Kevin Cramer (R-N.D.), Joni Ernst (R-Iowa), Roger Marshall (R-Kan.), Rick Scott (R-Fla.) and Tim Scott (R-S.C.).
The full text of the bill is available here.