News and resources regarding COVID-19
OPINION: SCCSD Board Members on Education Plan During the C-19 Pandemic
Emotions run high when it comes to education during COVID-19; parents with varying outlooks, teachers' unions worried about safety and school leader trying to balance health and education. Siouxland Public Media reached out to members of the Sioux City Community School District's Board of Directors for their opinions.
Statement from Sioux City School Board Member Dan Greenwell:
"We are mitigating the virus at the classroom, grade-level, and building when necessary. Yes, our community rate has changed, but our mitigation efforts are still working in the District. We are watching other buildings right now but they are not at a point where an application for any different model is necessary. We committed to this mitigation plan, and we should stick with it until the data indicates our efforts are not working.
Additionally, our community (especially the part of our community with kids in school) does not like a hybrid model. It is too hard and confusing for them to deal with that and their other responsibilities. Kevin Griemes at Siouxland District Health has indicated that In-person is better than hybrid as students mingle closely on their "off days" during hybrid. I believe that, at best, the hybrid is "emotional soothing." If we don't do in-person instruction, we should go virtual, in my opinion. It feels like a Friday the 13th in 2020 right now. A great deal of emotion is ruling the day. Things with the virus seem to be going back to a faster-paced change rate, much like we had back in April/May."
* Greenfield says he contracted COVID-19 and has since recovered.
perla_alarcon_flory_11.13.20.mp3
OPINION: SCCSD Board of Director Perla Alarcon-Flory - 11.13.20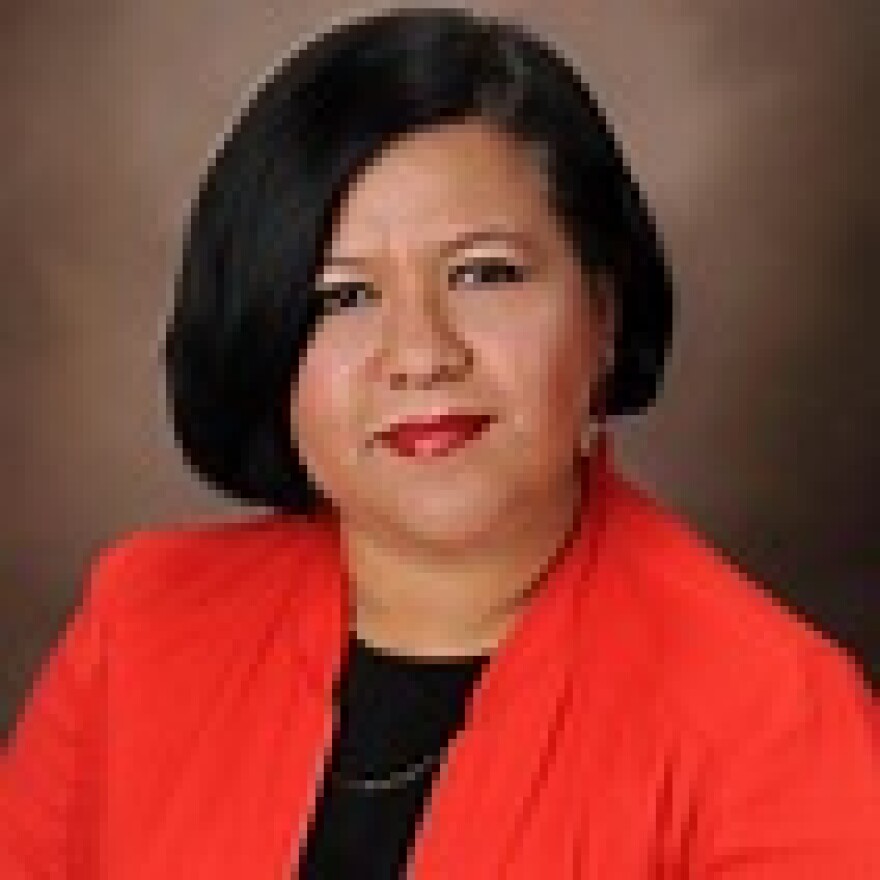 School Board Member Perla Alarcon-Flory has advocated for the SCCSD to move to hybrid learning since the end of September. The school district started the beginning of the academic year on August 25th with hybrid learning. Students attended in-person classes Monday/Thursday or Tuesday/Friday. They returned to full-time in-person learning on September 9th. Alarcon-Flory would now like virtual learning for all students due to the increase of cases and positivity rates.
Sioux City School Board Member Taylor Goodvin says he recommends the district move to a hybrid learning model between Thanksgiving and Winter Break. Goodvin posted his comments on social media on November 12th after West Middle School was put into "emergency response virtual learning".
Statement from Board President Jeremy Saint - 11.16.20
Thanks for reaching out on this topic. I am happy to give you my thoughts on this subject, but please keep in mind that my comments and opinions here are my own and it is not my intent to speak for the entire Board or any other Board members as I understand there is a wide range of opinions on this topic.
I, like most everyone in our community, find the rise in Covid-19 cases in Woodbury and Plymouth Counties concerning. Providing quality educational services in an environment that is safe for our students and staff should remain our District's top priority. Our District is constantly monitoring the situation and making the best decisions we can within the options available to us.
With respect to changing our current learning model, our options for change are limited under state law. The Board can elect to move the 2-day-a-week "hybrid" model on its own. However, a move to virtual learning for a building or for the District requires state approval based on criteria set by the Governor and the Department of Education.
I am personally skeptical that a move to the 2-day per week model will do much to either slow the spread of Covid-19 in our community or to advance the educational achievement of our students. Under the hybrid model, students and staff will continue to meet in our buildings, but instruction time to each student will be significantly reduced. In addition, for three additional days a week, parents will be forced to turn to ad hoc child care situations, many in environments with no safety measures in place, including relying on grandparents and older relatives who might be better served maintaining more social distance. Many parents may be forced to choose between their job and supervising their children at a time of great economic uncertainty and with no prospect of additional State or Federal stimulus or relief currently on the horizon. If we are going to move to a 2 day per week model and thereby significantly increase the burdens on the working families in our community, then we should be very clear about what we are trying to accomplish with such a move and exactly how that move would achieve our goal. I personally think that such a move would do more harm than good at this point and may actually put more people at risk than our current learning model.
In my opinion, at this time, the best option available to us remains strictly enforcing our existing safety protocols (which have so far proved generally effective), adding additional safety measures where necessary, and using targeted closures (including buildings where state approval is granted) to keep our students and staff safe. Of course, anything could change at a moment's notice and our District will remain prepared to take swift action if at any point it appears that our safety protocols are no longer working.
Statement from Monique Scarlett - 11.16.20:
Thank you for contacting me. I am now pushing for virtual simply because of the alarming increase of positive cases. I still believe that we must be proactive and take the necessary steps to keep our district students,
teachers and administration safe. Although we have processes in place, we lack the enforcement and accountability. We need to send a clear message of zero tolerance if found with no masks.
Honestly, we need to move sooner than later with a vote for virtual learning.
*Siouxland Public Media will add more statements when they become available.