Christina Chahyadi: Siouxland Public Media's Artist of the Month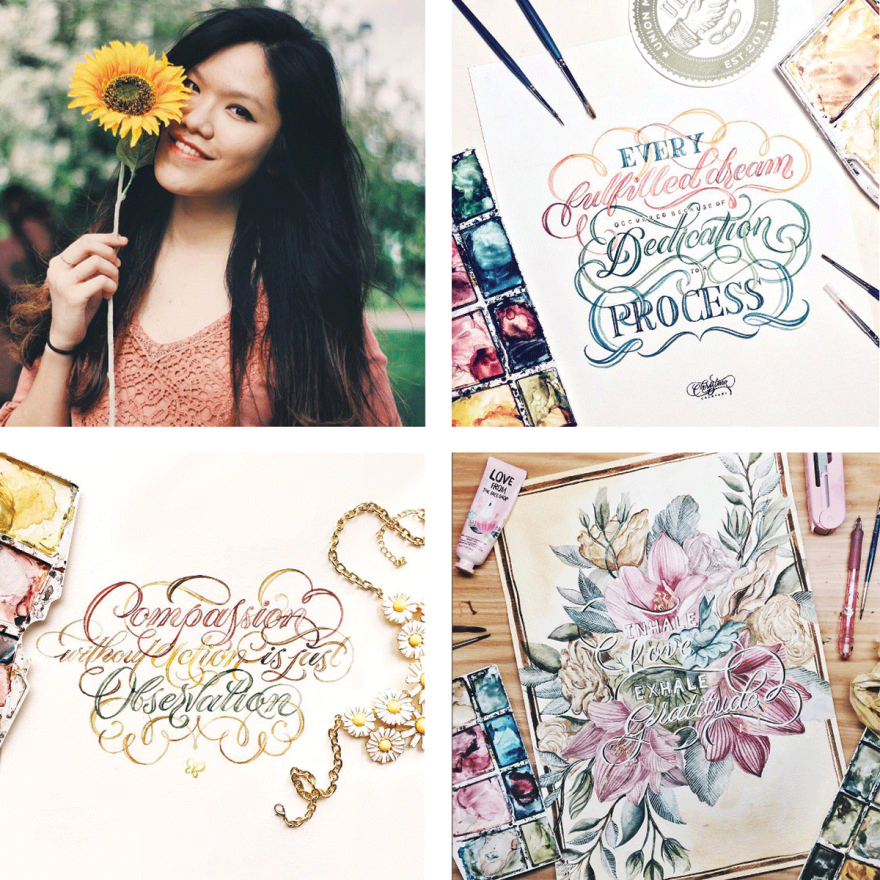 A talented typography artist left the world's most populous Muslim-majority nation to attend a small Christian college in Sioux Center, Iowa. And more than 53,000 Instagram users have virtually followed her here.
At a young age, Christina Chahyadi fell in love with letters. It was a tumultuous relationship at first. Her mother was the middle school principal, and at times, Chahyadi felt singled out, especially when it came to learning cursive. One particular teacher demanded perfection. Any little slip with the slants and spaces meant she would have to redo the entire practice sheet.
"I hated it," she said. But eventually, she found joy in the art of handwriting. She took her talent and turned it into a business, called Life Within Words, when she was 16.
"There's power in words," she said. "It either gives life or it takes away life."
Whether she's writing or speaking in Javanese, Sundanese or English, Chahyadi chooses to give life. Many of her calligraphy creations feature inspirational words or sayings.
"Inhale love, exhale gratitude."
"Compassion without action is just observation."
"Two things stand like stone: kindness in another's trouble and courage in your own."
Drawing from the practice and patience she learned as a child, Chahyadi is intentional with each stroke and curve—and there are a lot of them. Her artistic style is defined by really fine flourishes. The exaggerated serif lines loop around the letters, creating whimsical watercolor words with an ombre effect. One thing that didn't stick from middle school is that she's not afraid of making mistakes.
"A lot of people, I think, if they fail or if they think they don't get it right the first time, they just throw it away. That's something I would not recommend. Because everything you make with your hands is special," she said. "That's where you learn. Mistakes are your teacher, greatest teacher."
She's kept track of her progress over the four past years, and during that time, there has been a growing demand for her typography skills. Living in Indonesia, many of her early commissions were for 17th birthday parties. "We celebrate Sweet 17, not Sweet 16," she said. She eventually expanded into wedding invitations and other celebrations.
Chahyadigot a big boost when her art was featured on Instagram, where she's known as crissyvr, short for her middle name, Verina. She gained thousands of followers overnight. Even reaching Insta-famous status, Chahyadi remained thoughtful in her creative process, and she stayed true to who she is—almost always posting a Bible verse with each of her photos.
Her faith life is what led her to leave Indonesia and go to Dordt College, where she has just started her junior year.
"To me, Christian community is everything," she said. "That's why I choose Dordt. Because if I would choose my where do I want to go to college for my art program, I would have not picked Dordt. To me, there's a greater purpose than just studying graphic design."
Originally, she had wanted to go to the Bandung Institute of Technology in her hometown in Indonesia.
"I'm not able to get in. Because it's geared towards fine arts, and by that time, my fine arts are not even polished," she said. "It's really hard to get into that school. Yeah, so that didn't happen."
She began looking for other options. A family friend told her parents about a couple Christian colleges in the United States that would be making presentations for potential students.
One of them was Dordt.
The night of the meeting, Chahyadi was carrying a stack of special thank-you cards with her—something she does all the time to randomly give to people, should the moment arise. A couple of her cards landed in the hands of the president of Dordt and an admissions counselor, who of course, encouraged her to apply.
"At that time, it's just not in my mind, going to Dordt. It's in a small town, in America, halfway across the world, and I'm just not ready to go," she said. "That same year, that same month actually, my dad resigned from his work. Financially, it also seems impossible to me."
The current school year's cost of tuition is about $30,000, plus $7,100 to $9,140 for housing. And there's another challenge. SinceChahyadi is an international student, she is not eligible for state or federal financial aid from the United States.
Curtis Taylor, the dean for global education at Dordt, who actually now works at a university in Indonesia, asked Chahyadi for her art portfolio and helped her find scholarships two yeas ago.
"He has a lot of faith in me, which I don't even have for myself, and for that, I'm really, really thankful," she said. "And that's how I ended up here."
She's a long way from home, practicing an ancient—and at times under-appreciated—art form.
In the United States, there's an ongoing debate about whether or not cursive should be taught in schools. But calligraphy is trending in Indonesia. Chahyadi belongs to a group, based in the capital city of Jakarta, called Kaligrafina.Typography enthusiasts get together to exchange knowledge and ideas once a month.
"That's probably how I learned most of the things that I know," she said.
Now that she's living halfway around the world, she stays in touch with the group online, and she's being pushed out of her creative comfort zone in college. Instead of solely focusing on typography, she is required to take classes in drawing, printmaking and photography for her graphic design major.
But she still tries to dedicate an hour a day to drawing, journaling, doodling, doing something with her beloved letters. When she draws and then paints inspiring words with watercolors, what was once a punishing practice has turned into a quiet meditation.
"I focus more towards meaning than beauty," she said. "I know it's pretty and beautiful, but I think beauty fades away and meaning stays behind."